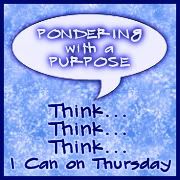 Welcome to Pondering with a Purpose
-
This is my weekly hop where I post a prompt and you get to write to it on your - come back here and add it to my linky and then we all get to go read what you wrote!
I started Pondering with a Purpose because -- simply put -- I am a writer - - that is what I do (I just can't help myself)! And although I love following all the hops, I wanted to see if I could bring out some creativity in not only myself, but some of my blogger friends as well.
The rules are really easy:
1. Grab the Pondering with a Purpose Badge (in my sidebar)
2. Look at the week's prompt
3. Post something on your blog that relates to the prompt - it can be a story, a poem, a picture -- anything you want it to be.
4. Come back here and add the URL from your post to the linky list below.
5. Go check out the other bloggers who have added their links to the list.
6. AND most of all.... Have fun!
Today's prompt is: Fire
In light (no pun intended) of the fact that today is the 4th of July and tradition states that we should be looking skyward for fire to reign down upon us, I thought this word was quite appropriate.
Are you sitting around a bon fire tonight to watch the fireworks?
Ironically, many beach towns in Southern California are outlawing the bon fire pits on the beaches. What a shame!!!!
Now there is a way to light a fire under someone, but that would not necessarily contain any actual fire or heat involved.
Or how about when you are being terminated from a job, or terminating someone from doing anything. Wonder how that became fire.....
How about you.... any fun plans for tonight? Any additional thoughts on the word?
I'd love to read your comments, or your linked up post, or better yet both!
Happy Independence Day! and Happy Pondering