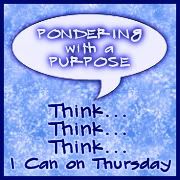 Welcome to Pondering with a Purpose
-
This is my weekly hop where I post a prompt and you get to write to it on your - come back here and add it to my linky and then we all get to go read what you wrote!
I started Pondering with a Purpose because -- simply put -- I am a writer - - that is what I do (I just can't help myself)! And although I love following all the hops, I wanted to see if I could bring out some creativity in not only myself, but some of my blogger friends as well.
The rules are really easy:
1. Grab the Pondering with a Purpose Badge (in my sidebar)
2. Look at the week's prompt
3. Post something on your blog that relates to the prompt - it can be a story, a poem, a picture -- anything you want it to be.
4. Come back here and add the URL from your post to the linky list below.
5. Go check out the other bloggers who have added their links to the list.
6. AND most of all.... Have fun!
Today's prompt is: Swing
Do you have a swing in your step? Or swing your hips when you walk?
It is summertime so it is the perfect time to see children outside on the swing. Did you, or your children, ever wrap yourself up in the swing and then let it twist out really fast? Thinking back on it makes me want to puke!!!
I haven't looked it up...but I would have to say that swing in the motion of moving back and forth.....
So why is a rope hanging out over a river or creek a 'rope swing' - it only goes one way, and if you don't let go you will be singing a different song :(
I'd love to read you think of with this word. Link up, comment or better yet... both!