Welcome to Pondering with a Purpose
-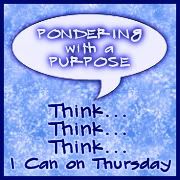 This is my weekly hop where I post a prompt and you get to write to it on your - come back here and add it to my linky and then we all get to go read what you wrote!
I started Pondering with a Purpose because -- simply put -- I am a writer - - that is what I do (I just can't help myself)! And although I love following all the hops, I wanted to see if I could bring out some creativity in not only myself, but some of my blogger friends as well.
The rules are really easy:
1. Grab the Pondering with a Purpose Badge (in my sidebar)
2. Look at the week's prompt
3. Post something on your blog that relates to the prompt - it can be a story, a poem, a picture -- anything you want it to be.
4. Come back here and add the URL from your post to the linky list below.
5. Go check out the other bloggers who have added their links to the list.
6. AND most of all.... Have fun!
Today's prompt is: Roll
I was watching the news and saw a big rig literally roll over during a tornado. Not only was I stunned, but it made me realize that Roll have multiple meanings.
Many people eat a roll with their dinner at night or they make a sandwich on a roll. You roll up a sleeping bag and sometimes you sleep on a bed roll.
Or how about to roll a ball, or marble, or coin.
And then there is the hair roll ...
But what I don't get.... why are they hamburger rolls and hot dog buns?
Would love to read your comment or your linked up post... or better yet... both!
Happy Pondering