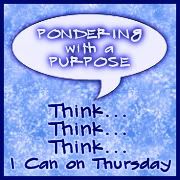 Welcome to Pondering with a Purpose
-
This is my weekly hop where I post a prompt and you get to write to it on your - come back here and add it to my linky and then we all get to go read what you wrote!
I started Pondering with a Purpose because -- simply put -- I am a writer - - that is what I do (I just can't help myself)! And although I love following all the hops, I wanted to see if I could bring out some creativity in not only myself, but some of my blogger friends as well.
The rules are really easy:
1. Grab the Pondering with a Purpose Badge (in my sidebar)
2. Look at the week's prompt
3. Post something on your blog that relates to the prompt - it can be a story, a poem, a picture -- anything you want it to be.
4. Come back here and add the URL from your post to the linky list below.
5. Go check out the other bloggers who have added their links to the list.
6. AND most of all.... Have fun!
I actually picked this subject before the horrible tragedy in Oklahoma....
I love this word for so many reasons.... First there is the wind that blows through the trees or from the ocean to cool things down....
and then of course the wind that allows us to fly a kite or allow the clothes to dry on a clothesline
And then there is the way you have to wind a clock or an old-fashioned watch
But when I see that word I think of winding up a top and letting it go.....
But! I never thought of wind as in a wind instrument or as in:

air

that

is

blown

or

forced

to

produce

a

musical

sound

in

singing

or

playing

an

instrument.
And then of course when I looked up the meaning of this word I couldn't help but add this definition:
break
wind,
to
expel
gas
from
the
stomach
and
bowels
through
the
anus. (who says these things????)
I would love it if you left a comment or linked up a post or better yet, both!